Discover more from posy & kettle
"Dear Guest, here you will do well to tarry; here our highest good is pleasure...This garden does not whet your appetite; but quenches it." Epicurus
Over 1,000 subscribers
Your Cannabis Experience is Here!
My author copies were delivered today! I am so excited that we are a week away from the April 4 release date of my latest cannabis book.
Hey subscribers I just got my author copies today from the publisher and I am so excited to share this new book with you!
This week our book winner will be notified and receive their free copy of the book!
There are lots of things that make this book really special. Of course the beautiful art work will inspire you in your own cannabis adventures, but also this book is printed in large print type which is something I have been bugging my publisher about for a long time based on the feedback I've had from my readers for a few years. Overall, the larger size of the book, the artwork, and the large print makes this a lovely coffee table book for sure.
There are many things about this book that are different from the other cannabis books I have written. First, I just want to tell you that there are the recipes that you've always loved as a fan of my books. There are brand new recipes, both apothecary and edible technique recipes. There are the much loved spa recipes and these are some brand new formulations not found in my other books.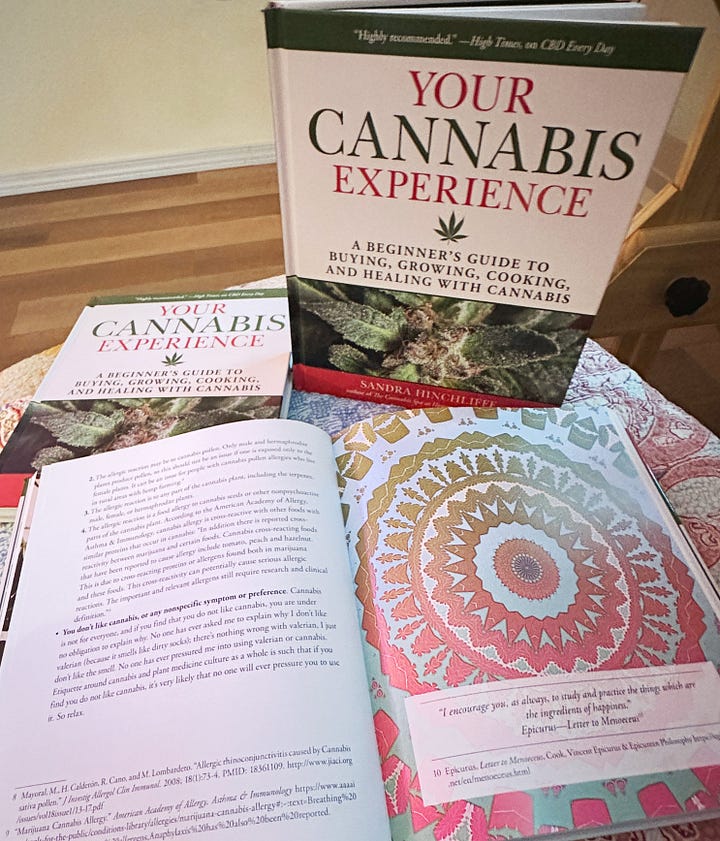 One thing that was very important to me in regards to writing a book for beginners was a fair treatment of cannabis. This book outlines both the good and bad—and how to avoid the bad. Every cannabis experience can be a good experience if the principles of mindfulness and moderation are followed. I think the most important thing that everyone who is interested in trying cannabis for the first time, or trying it again after a not-so-positive experience is that finding pleasure or relief does not require intoxication. How important this message is in this day and age when prohibitionists are fighting tooth and nail to get the cat back into the bag after years of legalization here in the USA!
It's a pretty book for sure, but it's also a book that you'll want to gift that friend or family member who needs perspective and education about cannabis that is fair and accurately cited with scientific information.
As we move to release date I plan on doing some readings from the book starting with The Fabulous Flower Life, the introductory chapter of the book that tells the story of why I wrote this book. I think you are going to find that very insightful into my own philosophy about cannabis and my cannabis books over the past decade.
It's hard to imagine that it's really been a decade since I wrote the first cannabis book about cannabis spa and topicals to be published anywhere in the modern world. Looking back from today to ten years ago on this date when I was shopping the manuscript to literary agents it seems like it was just yesterday. The time has flown by; and I have to admit to you that it makes me feel old. lol.
Anyways, right now you can purchase the hardcover on Amazon for $26.99 and the publisher has set that for pre-order, but if you pre-order now you'll get it on or around the release date.
On April 4 I will be setting up a listing for signed copies on my Etsy store for $36.99 and that includes free shipping and covers my Etsy fees. If you decide to order from Etsy as a special gift for someone I will also include a lovely personalized handwritten card on hemp paper for your gift recipient. I will notify everyone when this listing is ready to take orders.
Cheers!
posy & kettle is a reader-supported publication. To receive new posts and support my work, consider becoming a free or paid subscriber.